Arrests made in Fayetteville Applebee's murder | News
FAYETTEVILLE, Ga. -- Fayetteville Police say a former Applebee's employee was among two suspects arrested for the murder of restaurant manager Greg Smith.
Now Smith's family is coming to terms with the kind of closure that doesn't make the pain inside go away.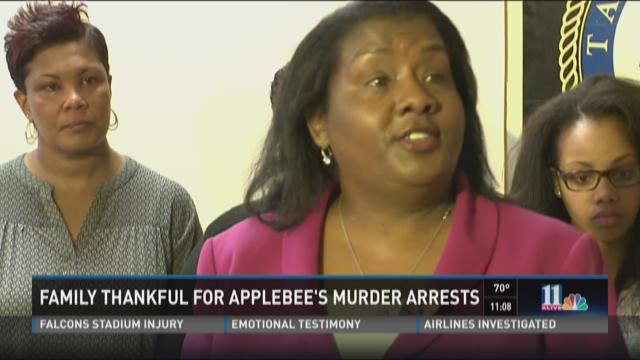 They're seeing Smith's alleged killers behind bars but not getting a chance to see their loved-one ever again.
Jessalyn Dorsey – one of Smith's aunts – fought to hold back tears.
"We truly lost a special member of our family," she said.
Greg Haney Jr, 24, of Jonesboro is charged with felony murder, malice murder, armed robbery, possession of a firearm by a convicted felon and aggravated assault. Police say Haney worked at that restaurant prior to Smith going to work there, and said the two did not know each other.
Ledarrius Jawon Jackson, 25, of Hampton is charged with party to the crime of felony murder, malice murder, armed robbery and aggravated assault.
On June 7, at around 6:30 a.m., Smith's body was found in his vehicle parked in the Applebee's parking lot.
Smith's fiance became concerned when he did not arrive home the night before. That's when she drove to Applebee's to check on him. That's where she found him dead in his car.
She called 911 immediately after arriving. There was one bullet hole in the driver's side window. Police located shell casings in the parking lot and canvassed local businesses for surveillance video. They later released video of a Chevrolet Malibu that had been driven behind Applebee's moments before Smith exited the restaurant.
It's a memory she will never forget as Smith leaves not only her behind, but their 15-month-old daughter and a large and close family - a family now living in pain and loss.
Police believe Haney was the trigger man.
"He may have thought he knew that money was coming out but it wasn't," Fayetteville Police Lieutenant Mike Whitlow said. "Which makes this even more heinous and stupid and senseless."
After the release of the video to the public, Fayetteville Police began receiving numerous tips about the car, which eventually led them to Haney and Jackson.
"The car is what did it," Whitlow said. "That's what we started getting tips on."
The Lieutenant didn't mince words regarding the men.
"These are bad guys – period," he said.
Both men were already in custody in another county, arrested after Smith was killed, charged with unrelated crimes..
Detectives said they spent more than an hour questioning Jackson on Wednesday.
The news of the arrests does bring some peace for the family. And, for the first time in a month, their need for justice begins to seem possible. It brings along a hope of closure. But, for now, that closure is only to the door of a home that now leaves one seat at the dinner table empty.
Inside, a woman who hoped to soon be called "wife" mourns, and a daughter too young to understand goes without a father -- all for money that never existed in what's being called a botched robbery in Fayetteville, Ga.
PHOTOS | More mug shots