Family, district attorney to Applebee's killer: You will be caught | News
FAYETTEVILLE, Ga. -- Tuesday morning, just steps away from the place Greg Smith lost his life, his family and friends gathered to make an emotional plea. Standing tearfully around a family spokesperson, their message was simple: if you know anything about Greg's death, please come forward.
"Greg was a loved one. He was a son, an only child," said family spokesperson Jessalyn Dorsey, a cousin of Smith's. "He was a father of a 15-month-old baby that he cared for deeply."
As Dorsey spoke, Smith's parents, who did not speak on camera, embraced each other as their tears flowed. Smith's longtime girlfriend, Katasha Wilson, walked away from the news conference midway through. It was Wilson who discovered Smith's body; she came to look for him Sunday morning after he didn't come home.
Surrounded by Smith's family and friends, Fayette County District Attorney Scott Ballard had strong words for those responsible: come forward now.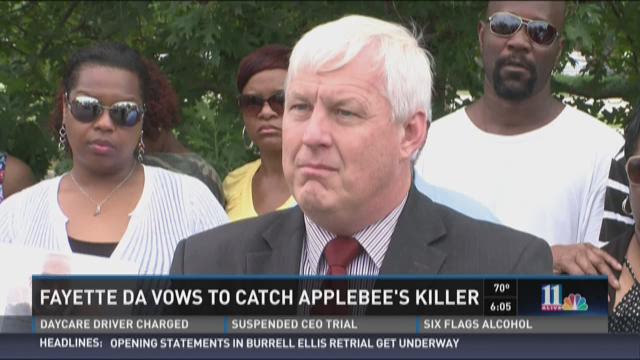 "There's a short timeline for you to see anything but the full wrath of the law," Ballard said. "You turn yourself now, because if [police] catch you before you turn yourself in, don't look for any mercy out of us."
Fayetteville Police Lt. Mike Whitlow said investigators have received a number of tips since Sunday. Investigators believe at least three nearby businesses have surveillance video that will prove beneficial to the investigation. Applebee's is offering an award for information leading to an arrest and conviction.
Police are asking anyone with information to call CrimeStoppers to leave an anonymous tip: 404-577-TIPS (8477).